Via TheDenverPost
The Edmonton Oilers announced Friday that they have signed Ryan Murray to a one year contract. Murray, coming off a Stanley Cup championship with the Colorado Avalanche, will add a depth presence to the Oilers blue-line.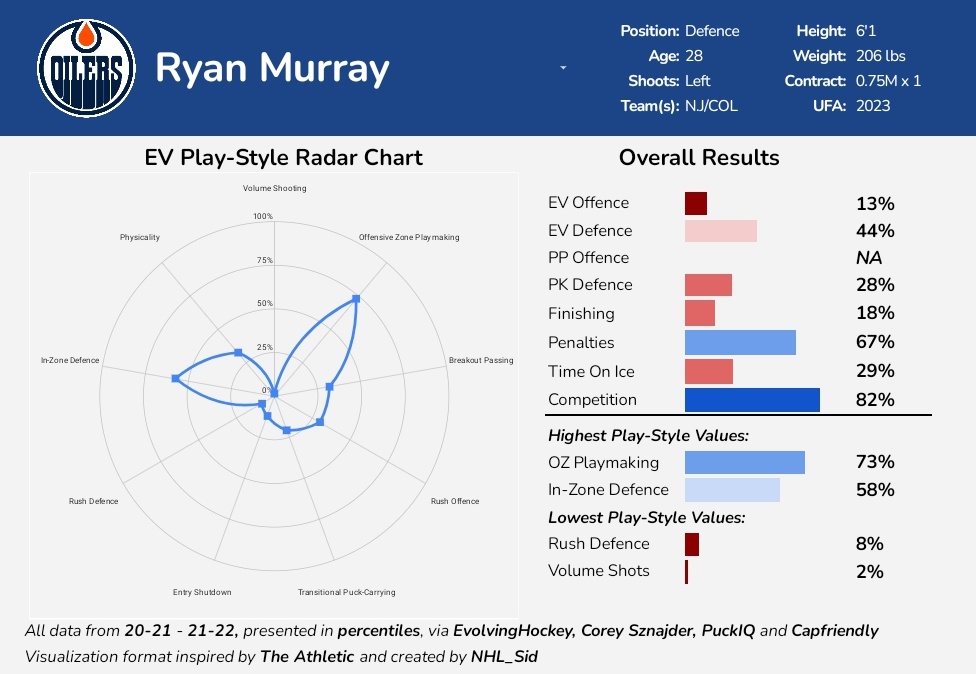 From @NHL_Sid who covers the Oilers at Oilersnation, he isn't the best Rush Defender at all and has been closer to average defensively the past few years. However, he excels in High Danger Passes and is generally a solid offensive defenseman. Another knock on Murray is that he's known to be injury prone. For a one year 750k deal, there is essentially no risk here. I like this signing a lot.
However, before signing Murray, the Oilers were already over the cap space by ~6 million. Adding the league minimum deal for Murray brings them closer to 7m. Sure, Oscar Klefbom and Mike Smith can be put on LTIR but they would still be over by 500k. As well, they still need to re-sign RFA Ryan McLeod. So, where do the Oilers go from here?
Configuration of the D-Corps
Before I get into what I believe happens to make the cap space work, here's what the Oilers D core may look like come Oct 12.
Nurse-Ceci
Kulak-Bouchard
Broberg-Barrie
Murray
Darnell Nurse–Cody Ceci played top-pair minutes the moment Jay Woodcroft came in and that will not change. Brett Kulak brought out the best from Tyson Barrie but with Duncan Keith retiring, and Philip Broberg coming in as a rookie, it'd be wise to play Kulak on the second pair. Evan Bouchard coming off an amazing offensive season will continue to make strides with the calming presence of Kulak. Now, the third pair is kinda scary. Broberg will be playing in his first full NHL season, but I'd rather him play with a defensive guy and not Barrie, who's known for his offense. Now, you can definitely just play Murray on the third pair to address this issue, but this means either making a 4.5M Barrie the 7th defenseman, or you're risking sitting a rookie in Broberg which you don't want to do. So, to fix the D-corps and solve the cap space issues and what I believe the Murray signing is signalling is a trade.
Tyson Barrie Trade
I believe Tyson Barrie will be traded. Ryan Murray and Brett Kulak can easily play the right side if needed, and the Oilers already have an elite offensive defenseman in Evan Bouchard. Clearing up his 4.5m plus the 6.4m from Smith and Klefbom would give the Oilers around 4.17 million to sign Ryan McLeod AND another depth forward in free agency. Teams that would look at Barrie could include the Seattle Kraken, Ottawa Senators, or the Montreal Canadiens. As for a price point, I think a mid round pick is very fair value for Tyson.
In the end, your D core now looks like:

Nurse-Ceci
Kulak-Bouchard
Broberg-Murray
Niemelainen
This is a better puck moving, cost efficient and defensive D-core which is exactly what the Oilers need to succeed in their quest for the Stanley Cup.
Thanks for reading and stay tuned for more Oilers content to come!